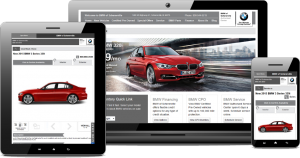 To make your dealership stand out even more to get more customers, there are many different things you can consider as you constantly need to be doing new things to stay up with the game. One of these additions is having responsive websites. These designed sites give you more ideas on How Responsive Web Design Can Benefit Your Dealership. They are a little different than non-responsive sites in one major way. If your site is not yet responsive, here are a few reasons as to why you may want to switch over as soon as possible.
How Responsive Websites Work
First, you may be wondering how responsive sites work exactly. It is very simple. These sites are like normal designed sites except they can adapt to any device someone may be using including tablet or phone. However, because of this, they may take a little longer to load but that is because the site is trying to adapt to the device it is being loaded on. You may be wondering How Responsive Web Design Can Benefit Your Dealership as there as many advantages to these sites.
Benefits to Responsive Web Design
Since responsive sights can adapt to any device, it allows full range no matter what the customer may be using to view your site. This is important because nowadays more and more people are using tablets and even their phones to surf the web. Customers want easy, accessible, and informative pages when looking at buying a new car. If they happen to use their tablet to search for something and end up on your site that is not currently responsive, your site will not load correctly making it more difficult for them to maneuver around. This will make them walk away from your dealer almost immediately.
Another benefit to know about is how often people use their phones. The number one thing people use their phone for is also checking their email. If you have an email campaign or they asked to subscribe to your email. If there is a link in the email they want to click on right away, it will take them to your site and if it is not mobile friendly, they will become turned off right away.
When it comes to making things easier for your potential customers, it is important to know How Responsive Web Design Can Benefit Your Dealership as well as your customers. We at Dealer Lab can offer our help to get you where you want to be and easily switch your site over to responsive so you can reach out to more potential customers. If you have any questions, please contact us at 877-622-2291.
© Copyright Content Motive, 2016.
All Rights Reserved. | Optimized for auto dealers by Content Motive