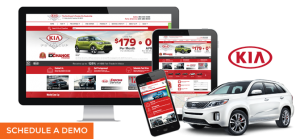 Keeping up with the times is always important when it comes to marketing anything. That is why it is important to make sure you Modernize Your Dealer Website with Responsive Design. One of the biggest ways you can stay up to date is by having a responsive site design. There are many benefits that come with having a responsive design including having your site be highly adaptive to many different devices which comes off more organized. Organization is another big factor when drawing in people to your site.
Benefits of a Responsive Design
There are many different advantages and benefits that come with having a responsive designed site. The biggest is that you will Modernize Your Dealer Website with Responsive Design. Staying up with the times is highly important. What responsive sites do is they allow your sight to adapt to any device from a desktop computer to a phone and tablet. This way, no matter what, your site will look crisp and can easily be navigated. Without a responsive site, it will not transfer over from a desktop layout to a phone layout very well which can cut off buttons, make everything unorganized, and all around not adaptable. If you are looking for a clean, crisp site, going responsive will easily help you do that no matter what device someone is using.
Why Getting a Responsive Design Site is Important
Besides the benefits that come with a responsive site, there are also many reasons why having a responsive sight is important in today's society. First, it is important to know that most car shopping is done online and is done on multiple devices. There are a lot of people out there who use their phone to look for a car quickly and if your site can't adapt to the screen for a clean layout, they will quickly go somewhere else and you will lose potential customers. Current statistics show the number is growing and will continue to grow with the amount of power tablets and phones now have and will have in the future.
We at Dealer Lab can easily Modernize Your Dealer Website with Responsive Design. It doesn't take long and it involves a simple switch. Our team here at Dealer Lab can offer you help to get you where you want to be and easily switch your site over to responsive so you can reach out to more potential customers. If you have any questions, please contact us at 877-622-2291.
© Copyright Content Motive, 2016.
All Rights Reserved. | Quality content by Content Motive