Responsive Websites
Optimized on Any Device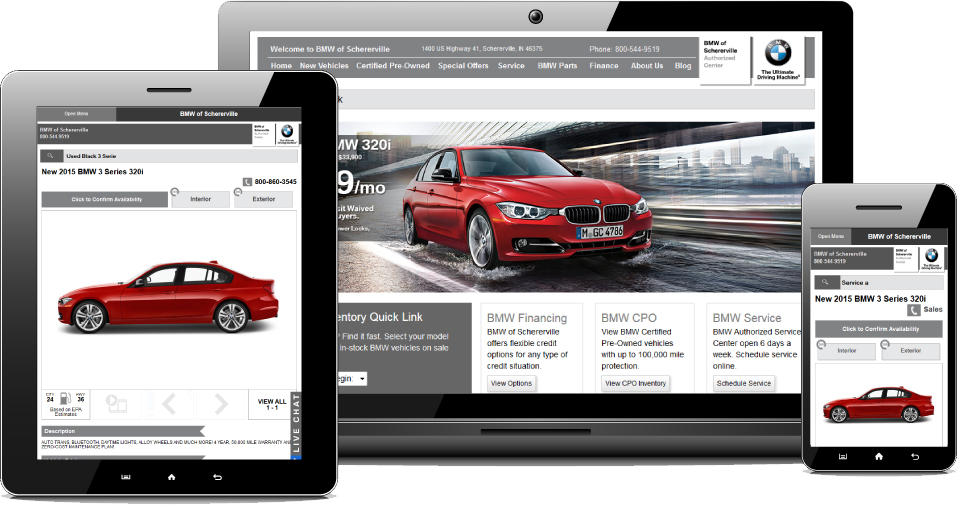 Responsive Websites
One of our main focuses at Dealer Lab is to make sure we provide the most up-to-date technology and tools for your dealer websites. This includes watching and recognizing trends in the varied ways in which your customers find your website. At Dealer Lab, we offer responsive websites that matches how your customers are looking at your information, optimized for desktop, mobile, and tablet experiences simultaneously. Our responsive websites also offer server side elements, presenting a responsive graphical experience for your customers on any device.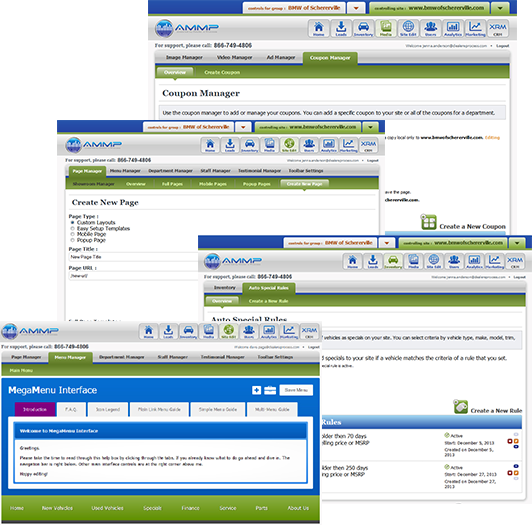 Dealer Lab Platform
A fast-paced, ever-changing market means you need up-to-date flexibility when maintaining, editing, and managing your website. Dealer Lab's website platform offers an array of website management tools, offering you precise, compliant handling of your website. Our website platform is user-friendly and easy to learn, so you, or anyone on your team, can easily manage, monitor, and edit your own dealer website.
NAVIGATION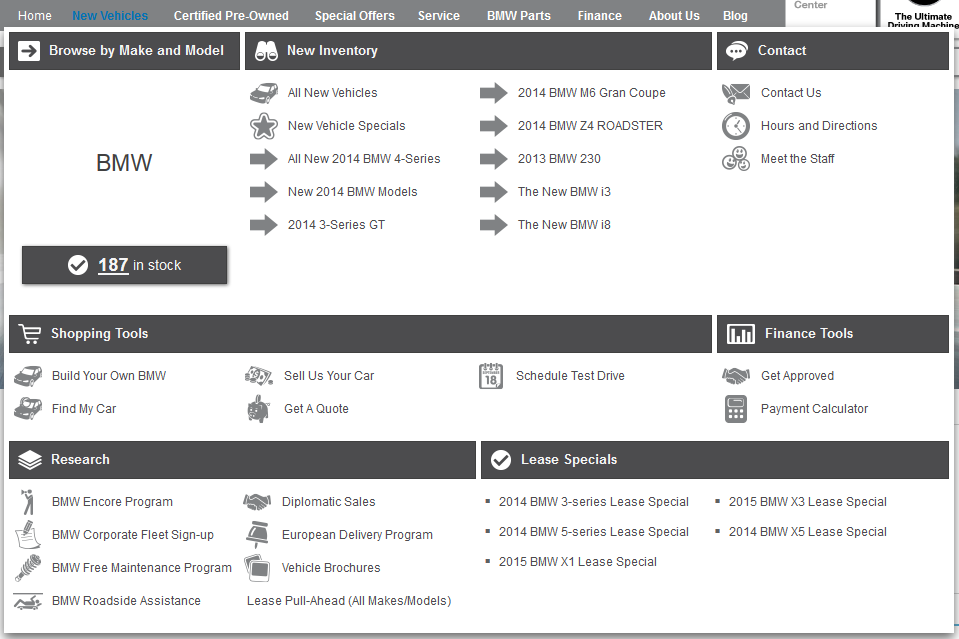 Mega Menus
How quickly and easily your customers can find the information they're looking for on your site is key to your dealer site's success, and easier navigation leads toward improved conversion rates. Mega Menus from Dealer Lab offer an optimized navigation experience for content-heavy websites, allowing for the inclusion of a large amount of content, while providing easier access to inventory, coupons, videos, research, and more. Even better, Mega Menus from Dealer Lab are also optimized to assist with your website's over SEO value by providing simple and transparent access to the content within your site.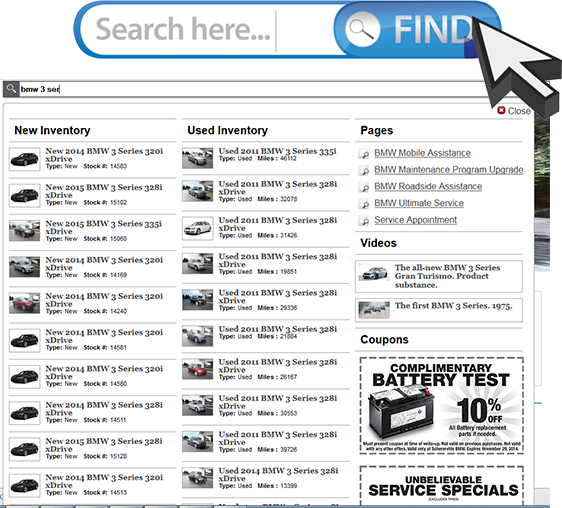 Site Search
Make your website even easier to navigate with Site Search from Dealer Lab. This tool, exclusive to Dealer Lab, performs much like your website's personal search engine, allowing your customers to search directly for the service or vehicle they're looking for. Site Search provides real time results, including your website's inventory, coupons, research pages, testimonials, videos, and even related coupons.
Vehicle Shopping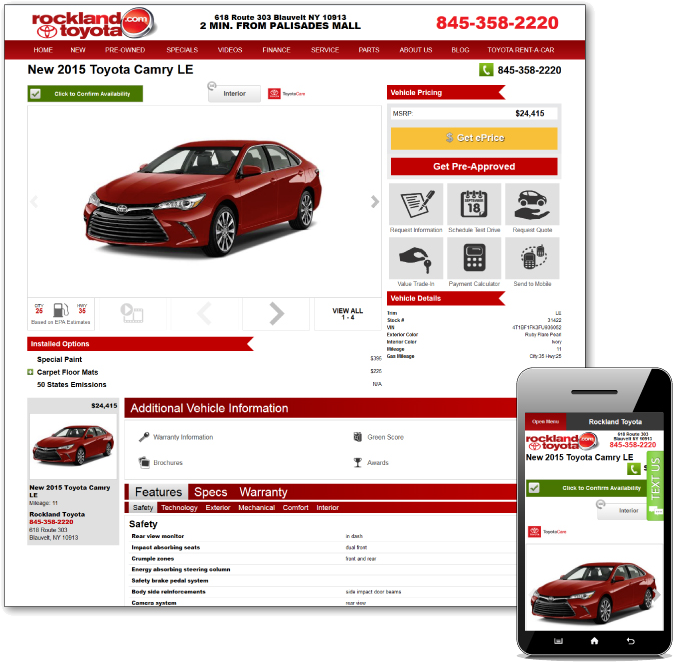 Advanced VDP
Your Vehicle Details Page (VPD) is one of the most vital pages on your dealer website: this is where your customers look to find the information about the vehicles they're looking for. Advanced VPD with Dealer Lab includes a vast array of features to help you give your customers the information they need to make an informed, comfortable vehicle purchase, including:
Vehicle Details and Installed Options
Eight Customizable Pricing Fields
Used Vehicle MSRP Data
Vehicle Inventory Videos
360-Degree Exterior and Interior Vehicle View
Vehicle Owner Manuals
Vehicle Brochures
NHTSA Safety Ratings
Vehicle Green Scores, Awards, and Accolades
Window Stickers
eAutoPayments
eAuto Appraise
Incentives and Specials
Customer Testimonials
Dynamic Call Tracking on New and Used Inventory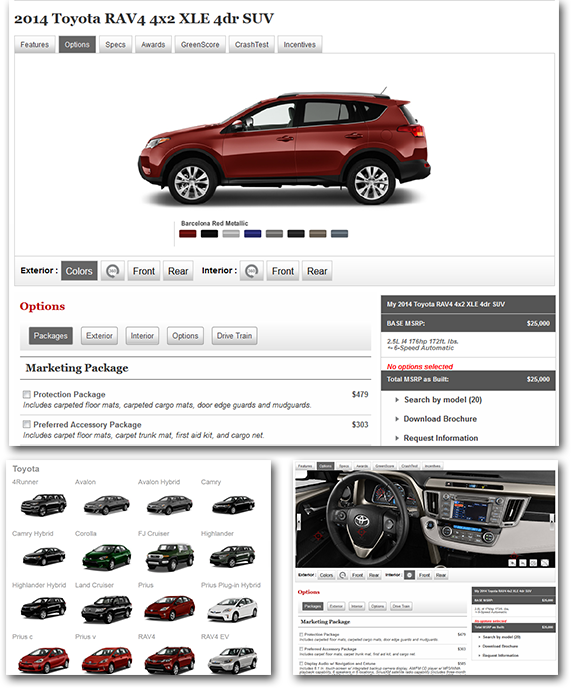 Configurator
Many dealers still rely on the manufacturer's website to provide advanced vehicle details and personal customization for customers. With Dealer Lab's Configurator, you can keep your potential leads within the confines of your website by adding your dealer site's own customizable, virtual showroom! The Dealer Lab Configurator gives your customers the ability to build and shape the customization of their vehicles by choosing their own colors, packages, trims, and other options. Other features of the Configurator include detailed vehicle specs and NHTSA crash test ratings, vehicle incentives and special programs, and visual 360 interior/exterior spins. And the Configurator from Dealer Lab connects directly to your inventory, providing in-stock inventory matches for customers building their vehicles!
Website Monitoring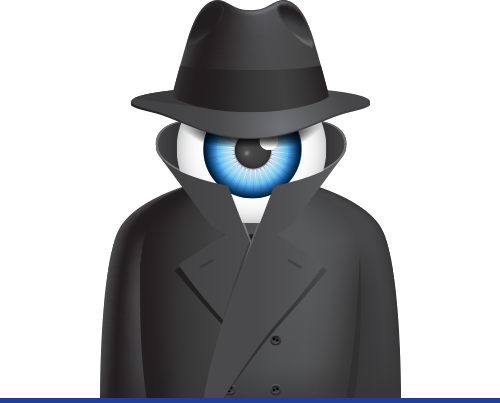 iSPY
Identify customer interests and activity on your dealer website with iSPY from Dealer Lab. With iSpy, you gain access to website reporting that helps you better understand the wants and needs of potential customers on your dealer site. Convert your customers and increase your connectivity by 500% with iSPY from Dealer Lab. Establish lasting connections with your customer base with iSPY's CRM alerts, letting you know when customers are browsing your site, and what they're looking for.
Credit Tools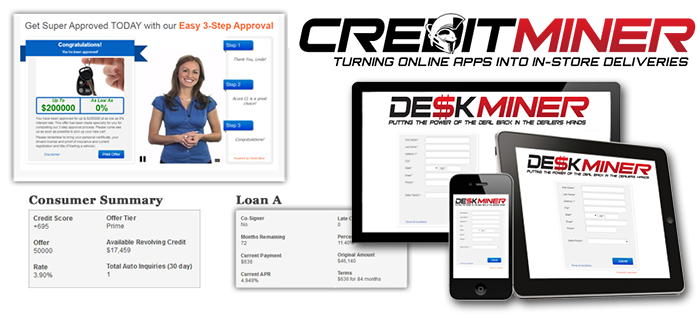 Real Time Pre-Approval
One of the first questions on many of your customers' minds will be whether or not they can afford the vehicle they're looking for, and whether or not they can get it financed. Give your customers the information up front with CreditMiner. With CreditMiner connectivity from Dealer Lab, you can now pre-screen your customers in real time, and all without the need for invasive questions regarding Social Security numbers and DOB. CreditMinter pulls information from reliable credit bureaus like Equifax, Experian, and TransUnion. Information provided from CreditMiner includes:
Current Credit Scores
Co-Signers
Current Vehicle Payments and APR Percentages
Loan Terms and Periods
Records of Outstanding or Late Payments
eAuto Appraise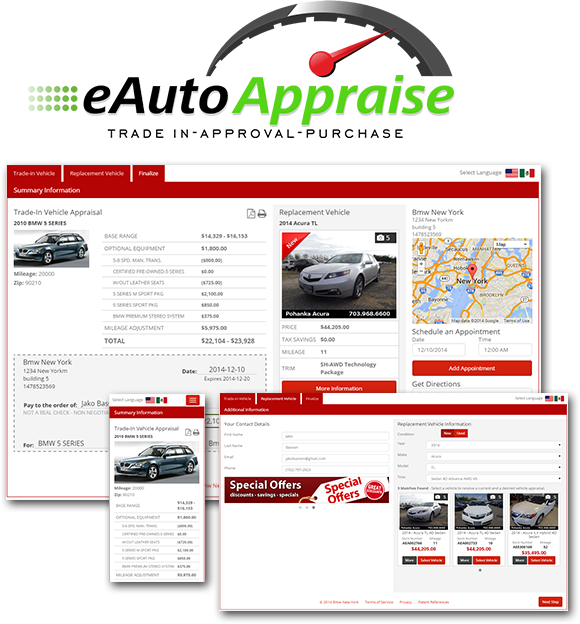 Powered by CreditMiner information and NADAguides, let your customers know the value of their current vehicle trade-in, while simultaneously getting those same customers pre-approved in real time with industry-leading creditors like Equifax, Experian, and TransUnion. eAuto Appraise from Dealer Lab provides a new level of control for dealers with vehicle offices, connecting each value offers to special programs, new vehicle incentives, live inventory matches, all responsive and with full reporting. Additionally, Dealer Lab's eAuto Appraise allows customers to upload photo and video of their trade-in requests.
eAutoPayments
Give your customers an unprecedented level of transparency with their auto financing with eAutoPayments from Dealer Lab. eAutoPayments provides the most accurate monthly payment estimates possible with our online payment calculator, and stop losing leads due to inaccurate "guestimates."
Dealer Lab's eAutoPayments connects directly to CreditMiner, allowing your customers to apply for pre-approval right from their payment estimates. eAutoPayments only provides the programs and features you select, and with this tool you can deliver vehicle-specific loan and lease payment calculations based on your present/real APR, current incentives for specific new and used vehicles, all while taking your customers' credit scores into account. eAutoPayments even allows you to include down payment amounts, loan terms, trade-in values, and reserve and rate markups in monthly payments, all from one central tool.
Dealer Watch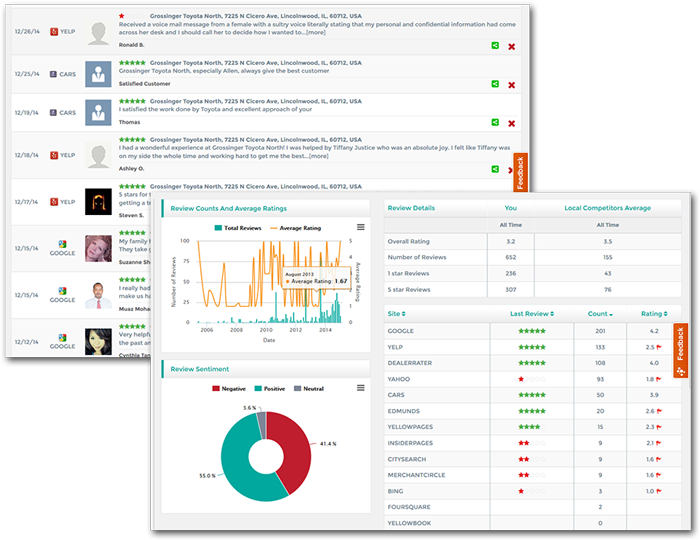 Review Monitoring and Management
Monitoring customer activity and the competition is the quickest and easiest way to improve your dealership's customer service and reputation. Real-time reviews can help your dealership stay on top of your competition by addressing customer issues as (or before) they even happen. Respond to your online reviews and bolster your dealership's reputation as a dealer that cares about the customer and the service you provide, which also helps bolster your referral business and encourages consumer loyalty. With review monitoring from Dealer Lab, get access to all of your reviews in one location, including feeds from Yelp, Google, DealerRater, Edmunds, Cars.com, and more.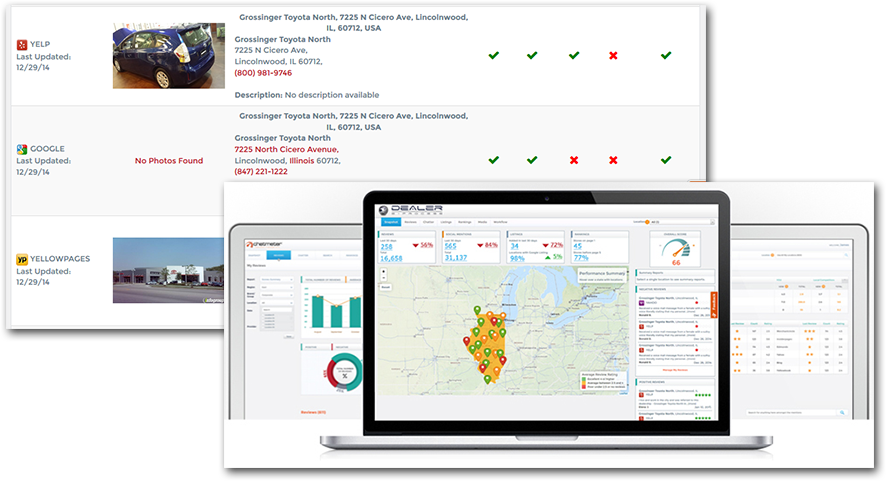 Competitor Monitoring
The Dealer Watch platform from Dealer Lab gives dealers unprecedented access to knowledge about the market, and not only can we help you monitor customer activity, but your competitors as well! With Dealer Watch, you now have the power to choose five dealerships from the top performing dealers in your market to compare your own reviews to theirs. Get real time access to review comparisons, and put yourself above the competition, helping you to find your dealership's weak spots and encourage improved reviews.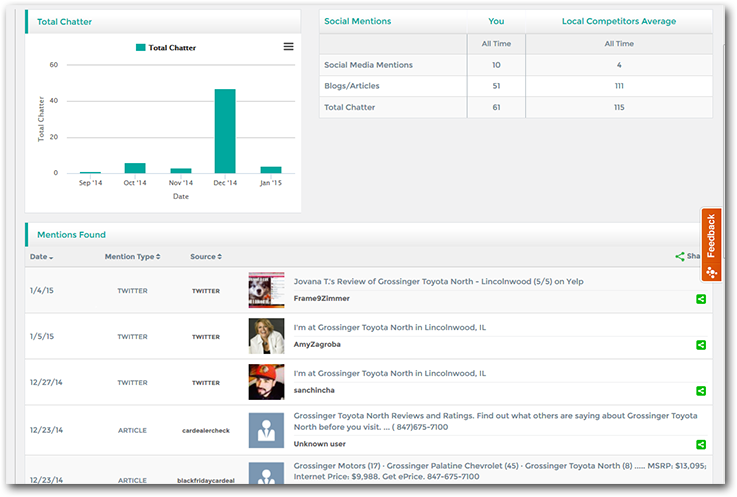 Social Media Monitoring
Dealer Watch with Dealer Lab also helps your dealership stay on top of the social media buzz surrounding your business and website. Combining responses from social websites like Facebook, Foursquare, Google+, Twitter, and Yelp, we provide a single location from which to monitor your social media presence and respond to your customer base. Prompt, knowledgeable responses from the source help drive your customer loyalty and boost your overall dealership reputation. Your social media presence in turn also appears more active to potential customers, which not only helps your overall web authority, but has an effect on potential leads!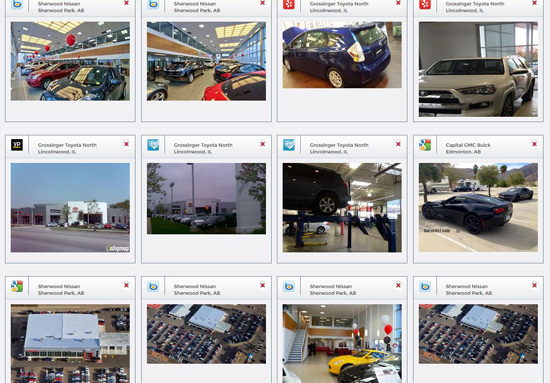 Media Management
With media management with Dealer Watch, your dealership now has the ability to manage how your inventory photos are displayed across the web. Media Management with Dealer Watch compiles photos tagged to your stores across multiple social media sites, including Instagram, Google, Yelp, Facebook, and more, and gives you the ability to manage them from one central platform!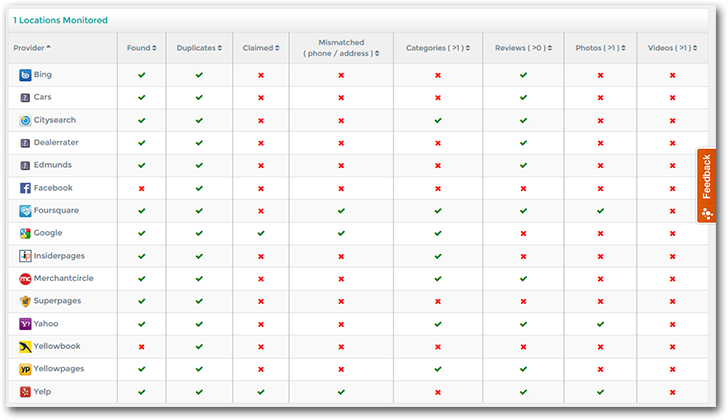 Local SEO Tracking
Make sure your local listings are up to date so that you're reaching as many customers as possible. With up-to-date information, your dealership is easier found, easier to contact, and that could mean the difference between a customer and a lost lead. With the Dealer Watch platform from Dealer Lab, we give you access to look at your main domain and individual store listings for engines such as Google, Bing, Yahoo, the Yellowpages, Cars.com, Dealerrater, Edmunds, and more, all from one singular platform! Do not overlook the importance of your local listings on the web.
Comprehensive Marketing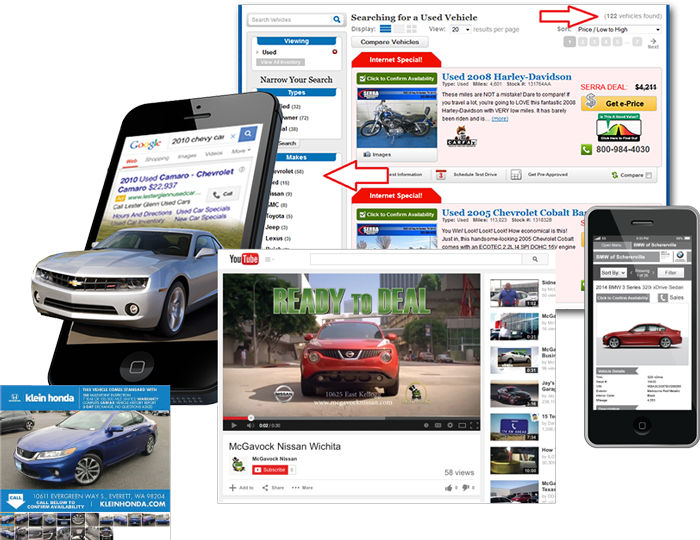 Digital AMMP
Attract customers to your dealer site and convert your leads more efficiently with the Digital AMMP platform from Dealer Lab. The Digital AMMP platform provides dealers with a host of features built for success, including: inventory-based search ads, custom paid search campaigns, display advertising, remarketing, YouTube video, SEO content, content engineer services, and even visual landing pages and infographics. Each one of these features is a small part in your comprehensive marketing strategy, meant to make the most of your online presence.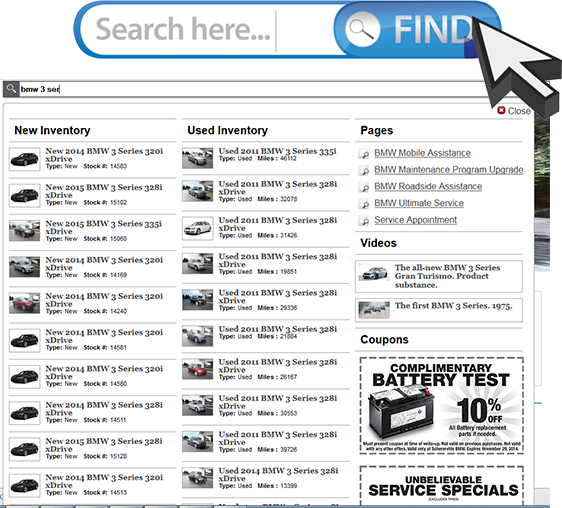 Inventory-Based Search Ads
By utilizing Dealer Lab's Digital AMMP inventory dashboard, dealers have access to now keenly target ads to customers with specific vehicles simultaneously with that customer's Google search inquiry. This focused targeting gets your inventory in front of your customers in a relevant and efficient way. It not only cuts down on the customer's research time and browsing, but also leads to a decrease in wasted advertising costs. Generate better leads and move your inventory by giving your customers exactly what they're searching for. The Dealer Lab AMMP inventory-based advertising system also provides a display of advertising cost for each specific vehicle, giving your dealership the transparent results you need to sell better.
Website Chat
Dealer Managed Chat
With Dealer Managed chat options from Dealer Lab, dealers have the ability to directly control their website's chat interface, complete with log in options for desktop and mobile applications. Managing live chat has never been easier. Live chats with Dealer Managed Chat can be initiated from your customers on both desktop and mobile applications as well, giving your buyers greater access to talk to your dealership directly about their research, questions, or your inventory. Dealer Managed Chat provides a simple, easy to use chat dashboard that lets you track your chats and results!
Proactive 24/7 Managed Chat
With 24/7 Proactive Managed Chat from Dealer Lab, we help your dealership manage your chats and support requests. Available 24/7/365, the Proactive Managed Chat does not require additional training or hiring, as Dealer Lab manages chats on your dealership's behalf, meaning someone is available for your customers even when the dealership doors are not. With Proactive Managed Chat with Dealer Lab, you can rest assured that your chat option is in the hands of seasoned professionals and experts, all while making sure that your customers' questions are answered in the timeliest fashion possible. Additionally, like with Dealer Managed Chat, Dealer Lab's Proactive Managed Chat provides your dealership with a dashboard to review live chats and agents' results.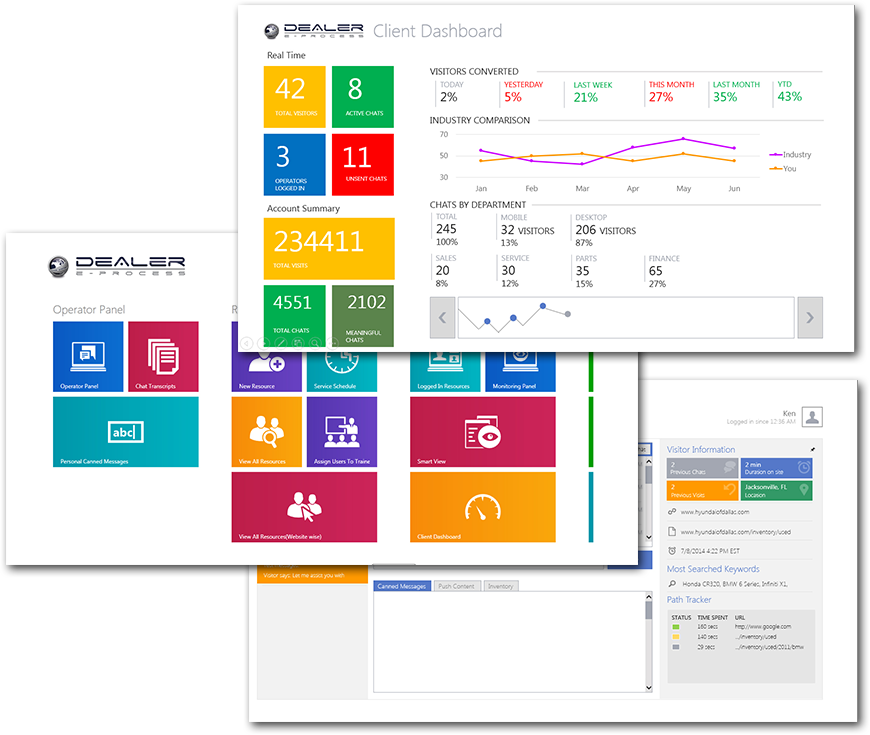 Hybrid Managed Chat
Much like the name implies, Hybrid Chat from Dealer Lab gives dealer's both the control of Dealer Managed Chat and the backup management of Proactive Managed Chat. Set your own hours, and let Dealer Lab manage the rest: Hybrid Chat gives 24/7/365 chat coverage, while also providing direct dealer control and chat maintenance. The chat dashboard allows dealers to observe chats in real time and the option to take over the chat from Dealer Lab's live chat agents.
Reporting and Diagnostics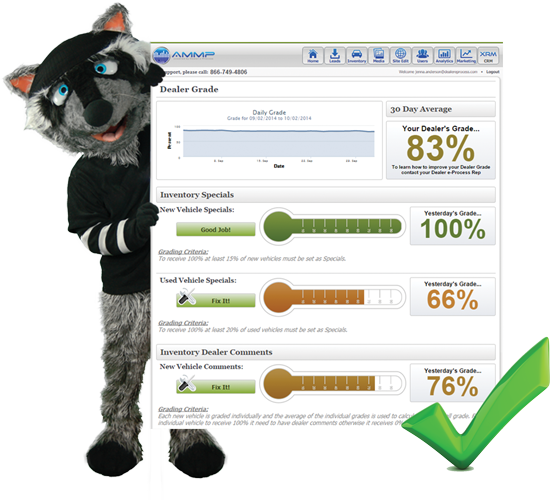 Website Grader
With the Website Grader from Dealer Lab, your can get a clear picture of your dealership website's overall health and performance. Website Grader comes built into every Dealer Lab website, letting to break down your site's performance on multiple levels, from daily to monthly, offering comparisons and suggestions for website performance improvement. The Website Grader tool from Dealer Lab utilizes an algorithm tuned specifically into your website to help you capitalize on missed opportunities. Ensure that your dealer website is maximizing its full potential with Website Grader.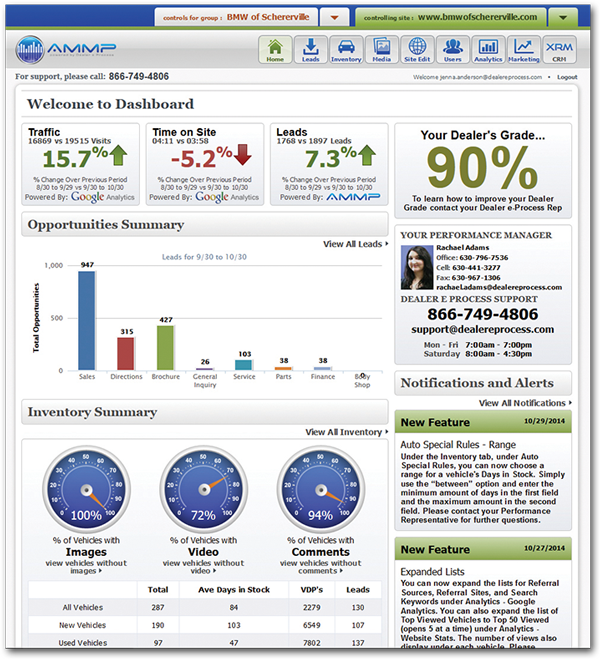 Advanced Reporting
Analyzing your website performance can be a daunting task when your results are spread out across multiple sources and platforms. With Advanced Reporting from Dealer Lab, we compile your website's analytics and other performance metrics all in one central dashboard. Advanced Reporting pulls information from your Google Analytics, VDP reporting, search engine marketing, conversion rates, lead counts, and more, all while integrating these results with Website Grader to give you a comprehensive look at the performance of your dealer website. Connect to all of your website's vital metrics to better capitalize on your leads, opportunities, and results.