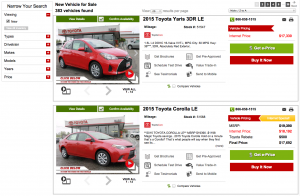 There are many ways you can increase leads for your website and that is always a good thing. Some ways are obvious while other ways are not so obvious but are just as important. For example, there is a simple button you can add to your pages which allow you to Increase Car Dealer Website Leads With This Lead Button. You may wonder how adding one simple button can increase leads but there is a reason why.
What is the Perfect Lead Button?
There is one question that all customers ask before they stop in and that question is, "is this vehicle available?" This is because customers want to make sure you have the vehicle in stock before they continue looking at it. Usually they would have to call in which can take some time getting to the right person who can answer. Doing things that make it easier for your customers is always a plus.
However, this button makes it fast, easy, and creates more leads. That is why the button was created in the first place. The button is usually located right above the feature picture to make it stand out as much as possible. It was originally placed in ten different areas to find the best place for it. It was found that, of course, the button being above the picture of the vehicle was the best place for it. You can easily Increase Car Dealer Website Leads With This Lead Button because of its strategic placement.
Increase Leads With Lead Button
Ever since this button came out, the "confirm availability button" has become the number one lead form on Dealer e Process website. There are many reasons why this button increases leads as well. First, it improves your relationship with customers as you make things easier for them. Not to mention, you will get less calls asking just if the vehicle is available. It is important to keep your site up to date as well so the button works to its best to advantage.
There are many things you can do that creates more leads when needed but this simple change can make a big difference. You can easily Increase Car Dealer Website Leads With This Lead Button without any other work being done. We can help you point yourself in the right direction.