The Best VDP
Customizable. Responsive.
Dealer Lab goes beyond the typical responsive site by offering responsive websites with server side elements (RESS) that are optimized for any desktop or mobile device. The Responsive VDP is 100% customizable; colors and fonts can be easily changed to be OEM-compliant or to accommodate dealership brand messaging. Dealer Lab also integrates with several 3rd-party vendors like Carfax, AutoCheck, and Pure Cars to bring consumers the most accurate vehicle history reports.
The customization stretches to all lead form fields as well. Dealers may choose which fields to show and if they should be required or optional for the customer. When a customer fills out a lead form, they can be taken to a customizable Thank You page, which may include, video, images or text, and can be custom-tailored for each department.
To top it all off, Dealer Lab offers a Responsive Mobile Website that retains 100% of the content from the desktop view. As your screen size shrinks to mobile, all of the elements that are on your desktop view will show on your mobile device. Dealers will not lose any valuable content such as ads, call-to-actions, lead forms, or vehicle information and photos.
[content_box color="#4FA3E6″]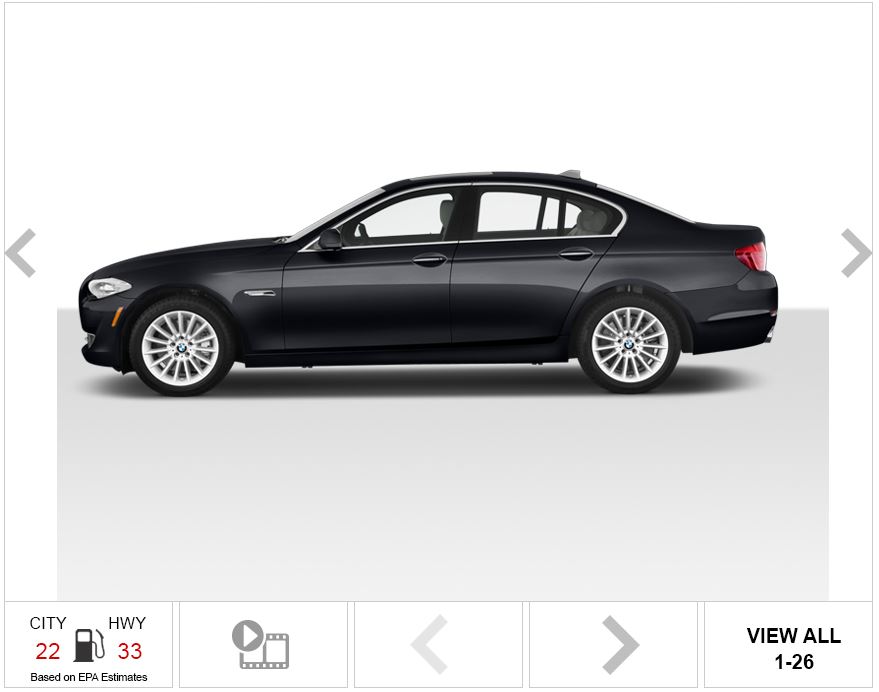 LARGEST VEHICLE PHOTOS
Did you know that the average vehicle photo size in the industry is 400×600 pixels? One of the first things you'll notice on the redesigned Responsive VDP is the size of the vehicle photos!
Dealer Lab boasts the largest photo size in the industry – almost twice as large as its competitors – and provides unlimited photo hosting. The VDP can support photos up to 877 pixels wide and will shrink images proportionally as the screen size changes.
A full size photo gallery can be accessed by clicking on the arrows beneath the image, and 360-degree interior and exterior spin views are available, complete with interactive Hotspots.
[/content_box]
[content_box color="#4FA3E6″]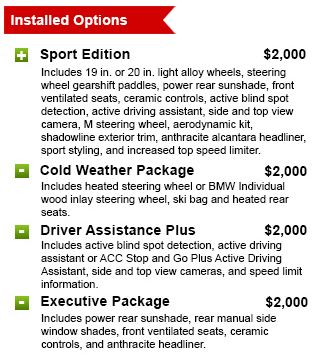 VEHICLE DETAILS & INSTALLED OPTIONS
Sections for Vehicle Details and Vehicle Description remain on the VDP to provide a quick overview of vehicle information. Customers can also view Installed Options on new and pre-owned vehicles so they can make a more informed decision of the choices that lie before them. All Call to Actions are customizable – dealers can change the wording, colors, fonts and icons. CTA buttons may also be turned off.

[/content_box]
[content_box color="#4FA3E6″]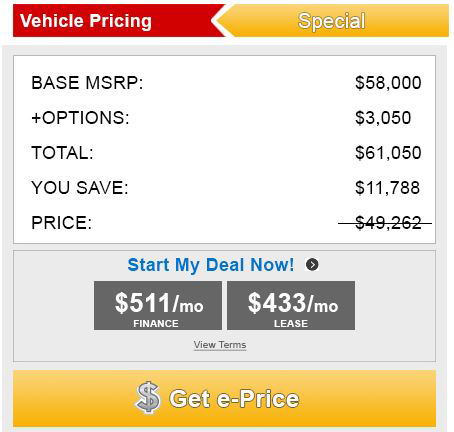 VEHICLE PRICING & PAYMENTS
The new Responsive VDP can include up to 8 mapable/customizable pricing fields. Dealer Lab can provide original MSRP for pre-owned, options/package costs, VIN-specific manufacturer rebates and implement calculations.
Customers are looking for transparency, and Dealer Lab has the tool to make this possible. eAutoPayments, a state-of-the-art online payment calculator that enables consumers to generate the most accurate monthly payment estimates. Dealers don't have to lose a lead or sale because the website's standard payment calculator can only compute a best guess.
The programs presented on the dealer website are chosen and powered by you, the dealer. Deliver side-by-side, vehicle-specific 1st pencil loan/lease payment calculations based on actual finance program data.
Present real APR, residuals and incentives for VIN-specific new and used vehicles while taking into account the customers' credit score. Include reserve and rate mark-ups in the monthly payment, as well as the consumer's down payment amount, term and trade value.
[/content_box]
[content_box color="#4FA3E6″]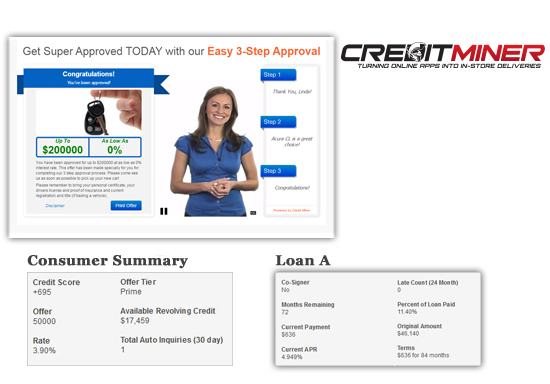 GET PRE-APPROVED
Customers can get pre-approved via CreditMiner. The Virtual Credit Consultant (VCC) is a one-of-a-kind software developed specifically for auto dealers looking to instantly pre-screen and approve customers utilizing TransUnion, Experian, and Equifax credit scores without impacting the consumer's credit score or history. The "soft pull process" does not show on the consumer's credit report. VCC is 100% mobile-adaptive!
[/content_box]
[content_box color="#4FA3E6″]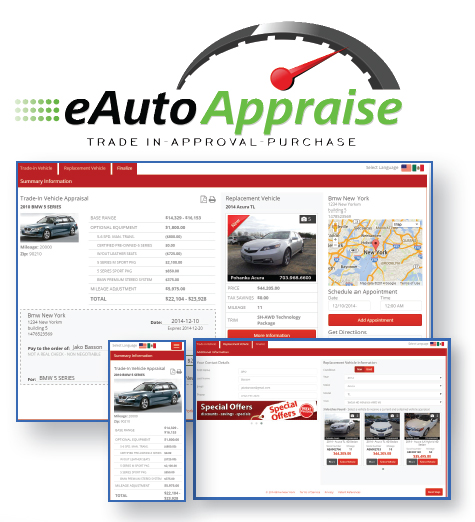 VALUE YOUR TRADE
How much is my trade-in worth? eAuto Appraise, powered by NADA Guides and CreditMiner, customers will not only know what their car is worth, but they will also get pre-approved in Real Time with a firm offer of credit via the industry's top credit bureaus: TransUnion, Equifax, and Experian.
This one-of-a-kind tool gives dealers the ultimate control over the value offer for any vehicle, connects to new vehicle incentives and special programs, displays live dealer inventory matches while giving the consumers the ability to upload pictures or video of their trade-in. eAuto Appraise is 100% responsive web design with full reporting.
[/content_box]
[content_box color="#4FA3E6″]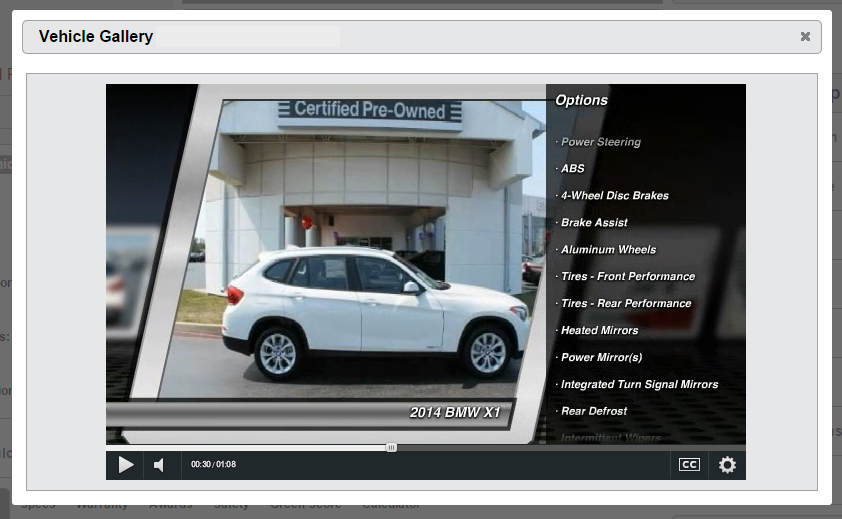 VIDEOS
Inventory videos can be easily integrated on the new platform and dealers have the ability to show multiple videos on each piece of inventory. Stitched videos can be created by Dealer Lab or provided by the dealer.
Roughly 25% of shoppers are primarily auditory learners. Many shoppers appreciate video demonstrations of the vehicle, but for auditory learners, it's essential.
[/content_box]
[content_box color="#4FA3E6″]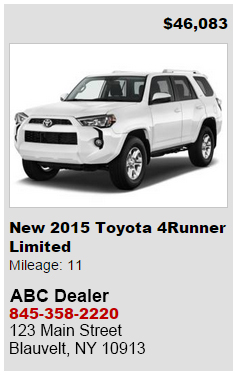 CONTENT IS KING
Quick Links listed under the Additional Vehicle Information section allow customers to jump to a specific section of the VDP. This way, they can access the content they truly want faster. Customers can jump to Awards and Accolades, Crash-Test Ratings (NHTSA), Green Score (EPA), and Warranty Information. Window stickers open in a printable window, and Vehicle Brochures and Owners' Manuals open a downloadable/printable PDF.
All sections of the VDP are widget-based, so sections can stretch across the page or be placed in columns, allowing for a customized layout. Consumers are able to minimize or expand most sections to hide or display the content they want to see.
[/content_box]
[content_box color="#4FA3E6″]

Incentives & Offers
Consumers are looking for the next big deal or offer. What better way than to provide that coveted information on your Vehicle Details Page!
Manufacturer incentives, special offers, and finance programs are automatically updated on your dealer website.
[/content_box]
[content_box color="#4FA3E6″]

SIMILAR VEHICLES
Knowing one's options matters to the consumer. Show all of the great choices from your inventory that a consumer has access to at the click of a mouse.
Consumers can view other vehicles customers viewed or similar vehicles that relate to their search.
[/content_box]
[content_box color="#4FA3E6″]

CUSTOMER TESTIMONIALS
Testimonials are an important feature on dealer websites. Testimonials can increase site conversion, and video testimonials are even better. Dealers can display text, image, or video testimonials. The VDP will display three testimonials, but the consumer can read more if they choose to do so.
[/content_box]
[content_box color="#4FA3E6″]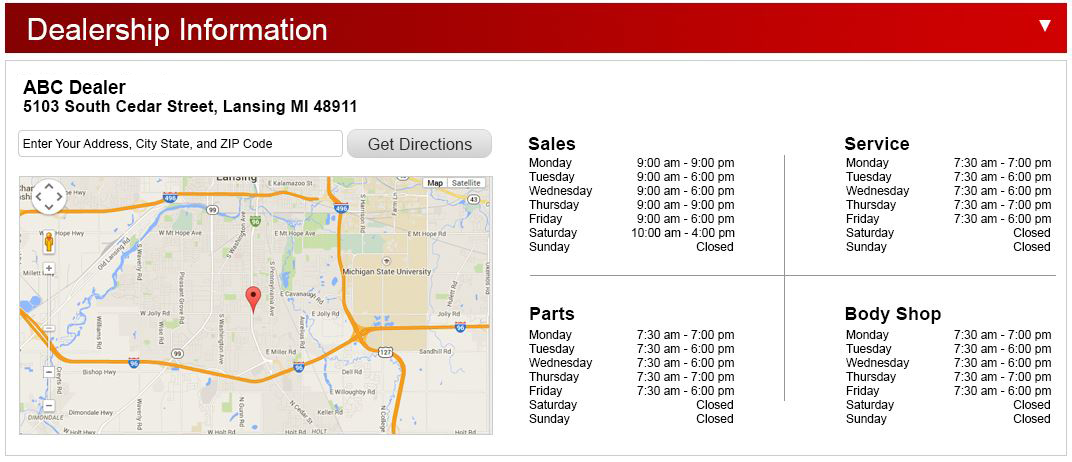 Contact Info
Available to the customer is a map and directions to the dealership, as well as hours listings for each department.
A Contact form is also visible to the customer, and dealers have the options for separate phone numbers for new and pre-owned inventory.
Dynamic phone call tracking numbers for new and pre-owned inventory are another option to display at the top of the VDP listing.
[/content_box]
[content_box color="#4FA3E6″]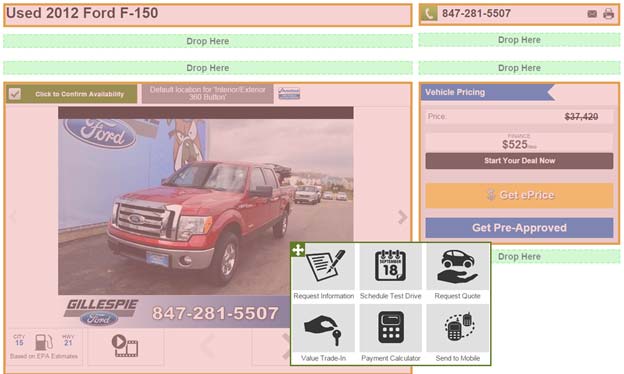 Custom VDP
Dealer Lab has developed the first customizable Vehicle Details Page (VDP) in the automotive industry in order to solve a problem for most dealers: choice and flexibility. The new responsive customizable VDP gives dealers thousands of combinations to display YOUR VDP, YOUR WAY.
The Custom VDP Editor uses a drag-and-drop interface to give users 27 different elements to customize and re-arrange. Twenty-seven different elements in 27 different combinations can create thousands of unique designs on the VDP.
Third party vendors, such as CreditMiner, PureCars, Black Book, CarProof, Carfax, and FlickFusion can be easily integrated into the customizable VDP so that dealers don't have to worry whether or not their vendor's application will function properly. Not only will these third party applications work on our responsive platform properly, but the dealer can hand pick the placement of the third party plugin on the VDP.
Read more about customizing VDP on this page: Dealer Lab: Customizable VDP.
[/content_box]