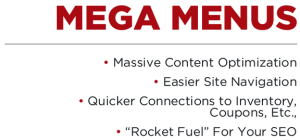 If you are trying to get more leads for your business, there are many things you can do to market your business. One thing for example, includes SEO content. If you are using SEO to help gain some leads and attract people to your site, there may be additional ways to improve it. Mega Menus on your site can help improve your SEO. You may wonder Why Mega Menu is Great for Your SEO but there are many reasons as to why this is a smart way to go.
Mega Menus and SEO
First, if you don't know, Mega Menus and SEO both are great tools to improve your website and to get more leads over to your site. SEO are articles designed to help get your site shown up in searches. The better the SEO you have, the more times you will pop up on Goggle and the higher up on the search list you will show up as well. SEO also offers information on the topic of the article as well to give information to your consumer base.
Mega Menus are used to display the SEO articles you have. You may wonder what the best practice you can use to implement a mega menu. You can consider crawlability, code order placement, and HTML simplicity. The answer to Why Mega Menu is Great for Your SEO is simple.
Mega Menu is Great for Your SEO
There are many things you can do with Mega Menus to improve your SEO. One of these things involves keeping it simple and another allows you to silo your mega menus. For the home page, use a mega menu heavy on visual clarity and anchor text written to easily communicate the link location. Also, do not link to more than four or five individual items for any one of your departments. This is because they should be changed frequently based on SEO priorities.
There are certain links you can use to include in a mega menu. However, do not include a link within your mega menus to goes to a page that lists everything on one page. This is because it can flatten out your site and does not allow you to prioritize pages with tweaks that you would want.
These are all some simple rules to follow to help use mega menus to improve your SEO. You can ask Why Mega Menu is Great for Your SEO but when it comes down to it, the answer is always right there. If you have any questions, you can contact us at 877-622-2291.