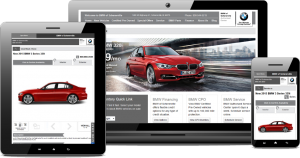 One of the most essential pieces of having an online marketing strategy is having the most up-to-date tools and technologies to not only catch your potential customers but retain them with accessibility, versatility, and memorable branding and visuals. One of the many Benefits of Responsive Websites is that they do exactly that: their eye-catching design is not only dynamic and stylish, but simple and very easy to use.
Up-to-Date Responsive Website Technologies
Here at Dealer Lab, we believe that staying on top of fast-changing trends and technologies is vital to the success of any web marketing campaign, website, or web-based business. Recognizing where your customers are coming from, how they got there, and analyzing this data overtime can tell you great number of things regarding the direction of your strategies and how to best get your online auto buyers into the dealership.
Another one of several Benefits of Responsive Websites from Dealer Lab is that the responsive website solution is specifically tailored to these emerging trends. Your customers are accessing and searching for information in new ways, and responsive websites are designed with these tendencies in mind. Responsive websites are not just cross-platform and device accessible, but your site is simultaneously optimized for display on any device, be it a desktop computer, laptop, tablet, and even your mobile devices. This means that whatever the device your customer is using to research their next vehicle or automotive service, the same information is rendered in an optimized visual display unique to each type of device.
Features of Responsive Websites
Responsive websites with Dealer Lab, whether a new site, or a platform update, provide the same features: service side elements, responsive graphic sizing for any device, and all of the same services necessary to carve your niche in the automotive online market, including an accurate and up-to-date inventory, brochures, custom graphics, specials, unique pages for your individual departments, and of course SEO optimization and other available upgrades to help boost your web visibility and authority both organically and paid.
As mobile traffic and search continues to grow, the move toward websites optimized for any variety of mobile devices becomes more and more vital to reach your customer base. Make sure that your website is flexible enough to handle today's trends and those continuing to emerge and develop. To find out more about the Benefits of Responsive Websites and how they can change your marketing strategy, contact us at Dealer Lab today at 877-622-2291.
© Copyright Content Motive, 2015.
All Rights Reserved. | Dealer content by Content Motive