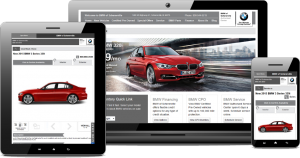 If your site has not gone responsive, you are missing out on a lot of benefits that can help your dealership gain more momentum and more potential customers. This is why you need to ask, How Can Responsive Design Help Your Auto Dealer Website? There are many benefits that come with a responsive site and switching over doesn't take much as we at Dealer Lab can easily help you get the results you seek.
How Responsive Designed Sites Work
If you do not know what a "responsive" site is, it is best to get a full understanding of what that means to know the benefits that come along with it. These sites are normal designed websites except they can adapt to any device including a mobile phone and tablet. That means that nothing is stretched, missing, etc. when the page loads onto a smaller or larger than normal screen. However, because of this, they may take a little longer to load but that is because the site is trying to adapt to the device it is being loaded on. Now you may be asking, How Can Responsive Design Help Your Auto Dealer Website? That is a good question and there are many benefits that answer it.
Many Benefits to Responsive Websites
Since responsive websites can adapt to any device, it allows full range no matter what the customer may be using to view your site. This is important because nowadays more and more people are using tablets and even their phones to search for vehicles and check email. Customers want easy, accessible, and informative pages when looking at buying a new car. If your site does not load correctly and have trouble navigating, they will easily walk away and check out another dealer's site. You can lose potential customers by not going responsive. People check their email on their phones more often than computers now so if you send email campaigns out and there are links in it that take them directly to your site, it will load for them precisely the way you want. Now is the time to be mobile friendly.
There are a lot of answers that come with the question, How Can Responsive Design Help Your Auto Dealer Website? Make your site presentable across all platforms. We at Dealer Lab can offer our help to get you where you want to be and easily switch your site over to responsive so you can reach out to more potential customers. If you have any questions, please contact us at 877-622-2291.