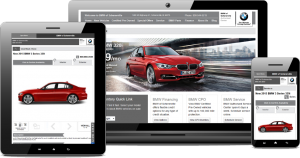 In today's society, there are so many devices out there that we can use to effectively search the internet. This includes a desktop, tablet, phone, and more. However, as you know, each device has a different size screen and operating system making it difficult for websites to look good throughout the lineup without proper setup and help. That is why knowing the Benefits of Mobile-Friendly Automotive Website Design is highly important in today's society.
The Benefits of having a Mobile-Friendly Website
There are many benefits out there that you can come across when it comes to mobile-friendly websites. These responsive sites are more user friendly. That is the biggest benefit to them. How they work is that they are able to adapt to the device and screen size as they read the system. A friendly site that is easy, informative, clean, and quick to navigate is all you need to turn on potential buyers. The information on the site is what keeps them there to consider your dealer.
If you do not have a responsive site, then your site can be very unfriendly to users making it difficult to get around and turning them away. More often than not, people are using their tablets or phones to do quick searches on vehicles and if they come across to your site and they are having trouble getting around, they will quickly move on to the next page losing out on a potential customer.
How to Get Mobile-Friendly Automotive Websites
After knowing all of the possible Benefits of Mobile-Friendly Automotive Website Design, you might want to know about how to get your site responsive if it is not. We at Dealer Lab can easily help you out with this as we have professionals that can work with you to make the quick and easy switch. It is fast and requires little work on your part. You will be surprised on how clean your site can look when surfing it on a phone.
These Benefits of Mobile-Friendly Automotive Website Design can potentially get you more customers as well as keep them coming back. One little thing like an unfriendly site can spell doom for your sales. We at Dealer Lab can offer our help to get you where you want to be and easily switch your site over to responsive so you can reach out to more potential customers. If you have any questions, please contact us at 877-622-2291.