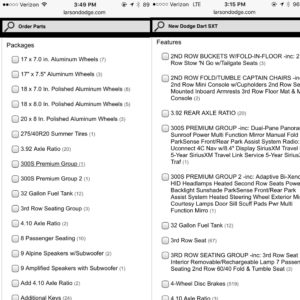 We added two new search fields to every website inventory; search by package and search by features. The data is dependent on what the VIN decoder provides which nowadays is pretty accurate. Check it for example at www.larsondodge.com
The idea is three fold:
1) It was added as one of the several refine search options. Non intrusive but available for customers looking for specifics.
2) Customers can truly breakdown inventory by one or more of these options allowing to quickly narrow the options.
3) By the same token it allows the BDC to quickly find inventory with certain features and options to answer inquiries or to find inventory for customers.
For those of you doing hardcore PPC campaigns with mobile landing pages, this is a great way to break down larger inventories by options. Furthermore if you have incentives on certain groups you can use this to set those apart on temporary landing pages. This is a very attractive tool for campaigns!
Do you find this useful? Feedback always welcome.