Google just rolled out something new, called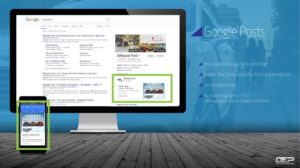 . It is basically like a little image/card with the ability to have a link on someone's Google My Business Page. (See the example below, circled in green)
Cool Things:
·        It's FREE! (to Google). You have to maintain/manage/create the graphics/offer/landing pages (or we can do it with your PPC)
·        Great way to show leases, service specials, APR's, sales, community outreach, reviews, whatever you want!
·        You can have an image, text, a call to action button, a link (with our tracking tags on it) and you can even schedule them to only run on or for certain days. (Must keep compliance/people happy and promote specials/sales on dates and not have to worry about going in and pausing them)
·        It's on the top half of a Google page, which is PRIME real estate.
***We NEED manage access to the Dealerships Google My Business Page in order to do this though.
Questions?