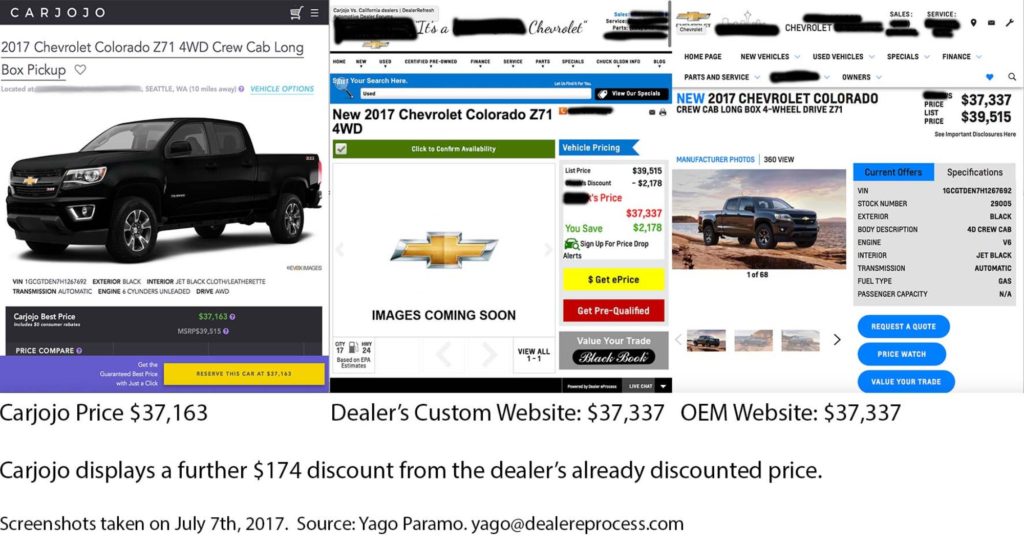 Some of you may have missed a recent article on Automotive News just as I did: "California dealers file complain over online broker" but thanks to reading Dealer Refresh as my daily routine and to Chris Leslie from bringing that to the forums I was able to catch this. What is Carjojo.com? Carjojo advertises the vehicles without dealer's consent and obtains the inventory probably by either scraping the data from the dealer's website or by buying the data from one of the free 3rd party sites that your inventory provider sends your data.
Automotive news describes their selling strategy as: "The shopper picks three specific vehicles, say Honda Civics, which can be at three different dealerships, and enters their credit card and other information. Carjojo then emails or texts each dealership in turn, asking if it is willing to sell that Civic at that price. If the first dealership says no but the second says yes, the consumer is alerted and advised to contact that dealership within 24 hours. The car is not held. The shopper pays Carjojo a fee of $199, but Carjojo does not buy the car itself or have any formal relationship with that or other dealerships."
The key to understand here is by looking at the heather in my article; Carjojo is attracting clients by advertising a lower price than the dealer has posted on any form of media. Carjojo claims on their site that: "The Carjojo best price is the lowest possible price that our data predicts that the car can be purchased for." The car that I checked, a client of mine, was advertised at Carjojo for $174 less than the dealership's lowest advertised price.
Is this really a bad deal? So if someone wants to buy a 2016 white Toyota Camry LE (of which every Toyota dealer in the continental USA has 30 in stock) would you drop the price another $174 from your current advertised price? Unless Carjojo is also selling the leads to the dealer so there is another money to factor in I would like to hear the dealer's opinions on this matter. I guess that the discount price strategy may not work for every single model/unit out there (black on black loaded Honda CRV seemed to be in high demand and low inventory last fall) but nothing that a good new car manager couldn't handle.
Protect yourself with a page on your website. I can see an issue with a customer finding Carjojo and wanting that lowest price plus not paying the Carjojo fee (Carjojo actually lists what dealer has the car). Some new car managers may be thinking already: "Come on in my minus $174 friend, you are welcome here". But one quick thing dealers can do, least this being any legal advice since I'm not qualified to give any, is to have a page on their website about brokerage laws in their state and explaining how prices marked by broker's can't always be backed up by the dealer.